Smoke-Guards
Smoke Guards for Your Fireplace
Smoke guards from Chimney Cricket keep smoke going UP the chimney.
They also:
Prevent Smoke Rollout
Are Available In Black Or Brass
Fit Fireplaces 28 1/2" to 48" Wide
Are Spring-Loaded For Easy Installation
Have Heat Resistant Adhesive Caulk (Included) - Seals Smoke Guard In Position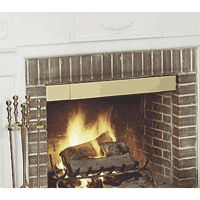 When the experts at Chimney Cricket see a fireplace with smoke stains discoloring the face of the firebox, we know the home owner has a smoke problem, even if they don't mention it. In most cases, this problem is solved with the installation of a smoke guard. Smoke guards are black finished so they do their job of sending smoke up the chimney instead of into the living space.
Most fireplaces smoke because their opening is too high. Smoke guards lower the fireplace opening and hold in the smoke, correcting the problem. Fireplaces will also smoke for other reasons such as an undersized flue or insufficient air supply. Chimney Cricket professionals will inspect your fireplace and chimney as well as offer customized services to solve your unique smoke situation.