Custom Decorative Shrouds
Custom Decorative Shrouds
Custom Decorative Shrouds
Our custom chimney shrouds are precision engineered
and manufactured using the latest CAD and CNC machine
techniques. Each shroud is built to exact dimensions.
Before any shroud is built, we supply precise CAD
drawings for approval. NOTE: Certain syles have a
maximum length of 50".

These are the finest shrouds on the market.
Whether you need just 1 or 100, we can give
you the competitive advantage.
Animal Proof Screen
Screen is highly recommended to prevent
the common occurrence of birds and animals
nesting within the chimney shroud. Unscreened
shrouds can become home to wildlife which
creates a fire hazard.
We use 18 gauge 5/8" mesh which meets sizing
requirements and will prevent wildlife intrusion.

Removable top screen is standard when screen
is selected for open top shrouds. This allows
for easy maintenance.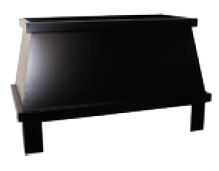 Corner Outside Mount
Mounts to the outside of the 4 corners of the chimney top. This provides a similar look as the top mount by simply extending the leg length over the four corners. This helps to prevent future leak problems.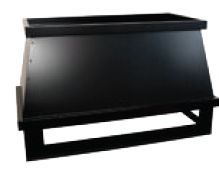 Top Mount
Mounts directly to the top of the chimney. This is by far the most common method of mounting.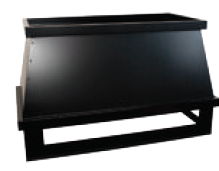 Full Outside Mount
Mounts over the sides of the full perimeter of the chimney top. This provides a seamless clean look while helping to prevent future leak problems.