Create Your Dream Stone Fireplace
Create Your Dream Stone Fireplace
Create Your Dream Stone Fireplace
Cultured stone, or manufactured stone, is fast becoming one of the most popular building materials for indoor and outdoor usage. Cultured stone comes in many different shapes, styles, and colors and, while it is not real stone, is manufactured to look just like natural stone. Manufactured brick is also another popular solution to getting the brick fireplace feel without having to purchase real brick.
Chimney Cricket uses cultured stone and brick to help customers design their dream brick or stone fireplace. From indoor fireplace fronts and hearths to outdoor buildings and chimneys, manufactured stone can create an elegant and unique look on any structure. These materials are easy to install and can completely update your current fireplace design. They are also much more lightweight than natural stone or brick so they will not put a dangerous strain on your home's foundation.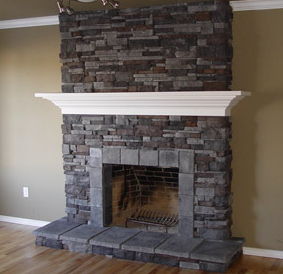 It is easy to get a fully customized look for your brick or stone fireplace using manufactured brick or manufactured stone as well. Varying the grouting technique, stone or brick size, and stone shape creates a whole new look with each adjustment. Chimney Cricket carries many colors of cultured stone or brick to match any room décor.
Enlist Chimney Cricket to update or improve your current fireplace design and build your dream brick or stone fireplace today.