Chimney Chase Covers
Chimney Chase Covers
Old galvanized chimney chase covers rot and leak over time. They are only designed to last for 7 to 9 years, and the water that leaks into your home through the old chimney cover can cause major problems. These include firebox rotting which leads to spark creation as well as heat and carbon monoxide leakage, mold growth, and damaged sheet rock.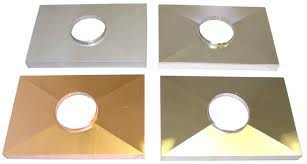 A stainless steel chimney chase cover from Chimney Cricket can withstand damage from storms, ice, and heavy snow as well as prevent rain, melting snow and other debris from entering the chase. Each chimney cover is customized to fit your home. A custom fit looks great and means the best protection from moisture and all the problems it causes. Copper chimney chase covers are also available and offer similar advantages with a more decorative look. (See below)
Chimney chase covers will prevent the occurrence of major problems that can lead to costly chimney repairs and can affect your family's health. Contact a professional at Chimney Cricket to have a high quality chimney cover properly fitted to your home.