Crown Coats
Crown Coats
Chimney Crown Coats and Chimney Crown
Seals for Chimney Repair
A chimney crown can sometimes become cracked and allow water to flow into the chimney. Chimney Cricket can cover the crown with a rubbery substance that looks just like cement called chimney crown coat and, if the cracks are extensive, a new crown can be formed.
What Exactly Is A Chimney Crown and Chimney Crown Coat?
A chimney crown is a masonry roof that covers the roof your chimney. It prevents water from seeping into the masonry and chimney liner below. Water damaged or cracked chimney crowns can lead to costly chimney repairs. A chimney crown coat will fill cracks and prevent further damage to the entire chimney.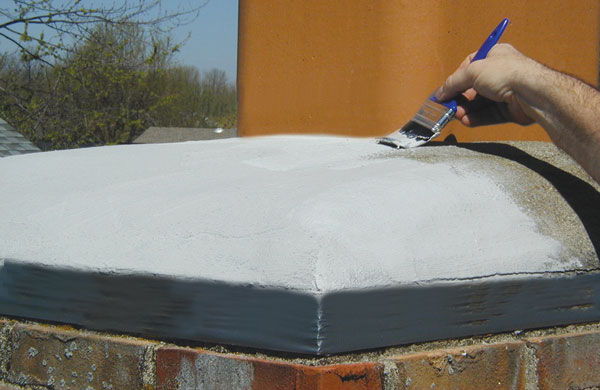 Stop Water Intrusion With A Chimney Crown Seal
A chimney crown seal is a flexible waterproof sealant that is applied over the entire chimney crown. A professionally applied chimney crown seal stops further water intrusion through the crown. It's specifically formulated to withstand the severe weather and thermal stress to which chimneys are exposed. It is flexible, forms a continuous, seamless coating with a textured appearance that can be troweled in a variety of mortar-like finishes. A chimney crown coat is designed for use over exterior masonry, stucco, poured concrete, precast concrete, and concrete block.
Component Protection
Chimneys require special attention to prevent costly damage, which results from water prevention. Chimneys that project above the roofline are especially highly vulnerable to the elements.
A complete chimney protection program should include repairing the crown with chimney crown coat, as well as a treatment of water repellent. Flue tiles should have a chimney cap to help prevent water damage to chimney interiors. Attention should also be given to the flashing around the base of the chimney and all visible points of water entry should be repaired.
Occasional maintenance of a chimney exterior is critical to the long term safety and performance of masonry chimneys. Contact Chimney Cricket today to learn how we can fix your chimney crown and prevent future problems.